In an important travel retail sector development, China's leading duty free stakeholders gathered together in Haikou over recent days to formulate new ways of driving industry development.
A working group set up last year called the China Tourism Association Duty Free Industry Professional Working Committee (the 'Special Committee', set up in 2021) hosted the meeting. Member companies, together with other invited parties and institutions conducted a series of productive, in-depth exchanges regarding the future of the travel retail industry.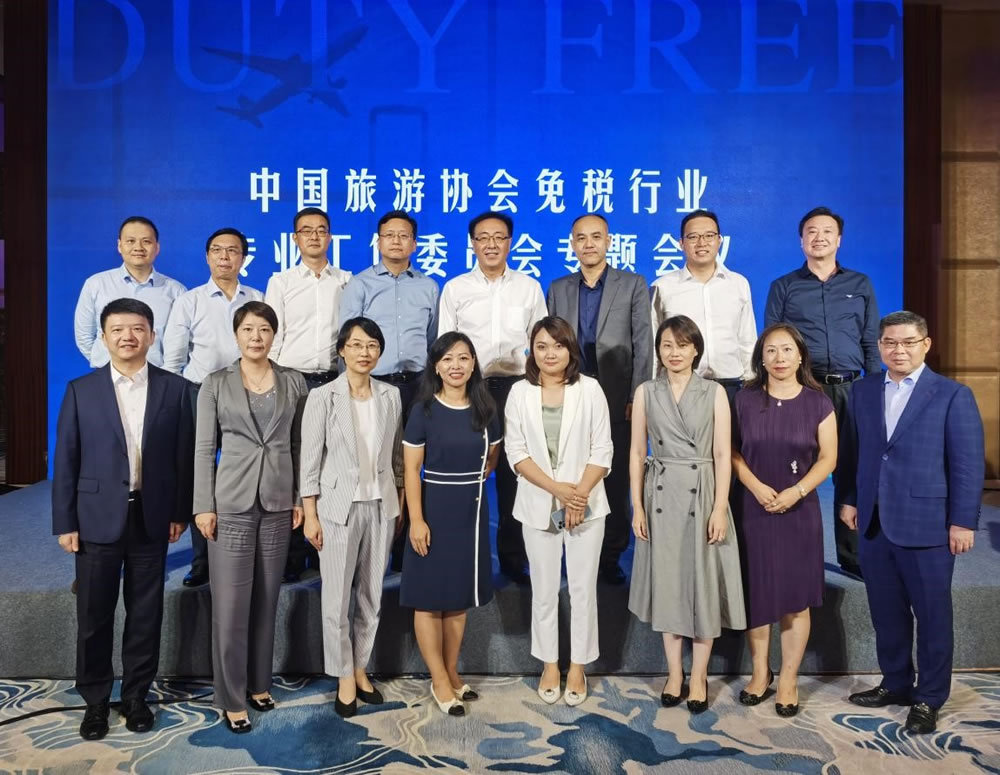 Participants included China Duty Free Group (CDFG), Shenzhen Duty-Free Group, Zhuhai Duty Free, China Sinopharm International Corporation (CNSC), Beijing Wangfujing Duty Free Commodities Management Co, Global Consumer Goods (Hainan) Trading Co (GDF Plaza), Hainan Tourism Investment Duty Free Co (HTDF), and other leading industry players.
Over recent years China's domestic duty free market has developed rapidly in line with the strong growth of the country's tourism industry and the improvement in Chinese consumer income levels, the meeting noted. China's share of the global duty free market surged from 11.2% in 2017 to 28.8% in 2021.
China's personal luxury goods market is estimated to have reached some CNY471 billion in 2021, a year-on-year increase of +36% and more than double the CNY234 billion total consumption of pre-pandemic 2019. It is expected that by 2025 China will become the world's largest consumer market for personal luxury goods.
Rapid industry development cannot be achieved without favourable policies from local governments, the parties said. This is reflected in Hainan where highly progressive offshore duty free policies have stimulated domestic consumption and boosted the consumer market.
Reflecting the success of such measures, Haikou Customs has supervised the sale of 195 million offshore duty free items since day one of the policy implementation through to the end of Q1 2022. During the same period, total sales revenue of CNY145.5 billion has been generated by some 292.6 million visitors.
Regulate and innovate
In recognition of evolving market dynamics, the China Tourism Association Duty Free Industry Professional Working Committee was officially founded in September 2021 under the supervision of the China Tourism Association. Its key aims are to regulate China's duty free industry and to drive innovation. The Special Committee members are mainly drawn from a cross-section of duty free retailers.
The creation of the Special Committee, allied to regular meetings and constant monitoring of progress, are key pillars in terms of the organisation's aims to develop and improve travel retail in China.
It also plans to serve as a think tank that deep dives into key issues related to the development of China's duty free sector.
Simultaneously it will provide insights to national and local governments on high-quality sector growth. The Special Committee will also facilitate integration and exchanges within the wider travel retail community, drive growth, and connect regulators of the duty free sector with various players along the value chain. It aims to promote communication between consumers, media, partner companies and committee members.
The Special Committee plans to play a key role in enhancing the influence of China's duty free industry on the rest of the world. To do that it will seek to integrate local resources for further dialogue and partnership with international organisations and duty free enterprises worldwide.
During the Haikou gathering, CDFG, as Chair of the Special Committee, explained the body's founding background, key milestones and work progress.
Other member companies and invited parties expressed their observations and ideas on various topics, including the vision and best ways of working for the Special Committee. External communications and sharing of internal and external business best practices were discussed.
The meeting provided suggestions on how China's duty free industry could grow and prosper through collaboration. All participants agreed to ensure legally compliant business operations; to provide consumers with more diversified assortments and better services; and to adopt a broader perspective and seek new opportunities.
The overall aim is to create a new market landscape as well as fostering the unparalleled development of China's duty free industry, the meeting concluded.
Source: ©The Moodie Davitt Report